Super G surface
For tough conditions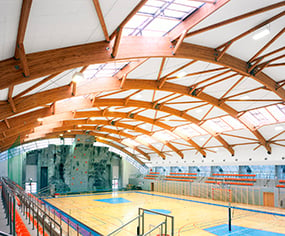 The Super G surface has been designed for environments where mechanical impact occurs. Super G is a glass fibre fabric with high impact resistance. The combination of this strong fabric and a high density glasswool core creates robust and impact resistant wall- and ceiling absorbers.
Available products
The Super G surface is available for:
Super G Colour Range
Super G is available in 2 different colours. Note that not all colours are available for all products listed above. Contact Ecophon for more information.
WHITE 085
Nearest NCS colour sample S 1002-Y.
Light reflectance 78%.
GREY 984
Nearest NCS colour sample S 3502-G.
Light reflectance 38%.
Observação: a cor pode variar entre os diferentes lotes de produção.
A reprodução da cor varia entre a impressão, a tela e a realidade.