Healing environments
Healing environment, evidence-based design. In Europe, such terms are relatively new. Fiona de Vos, the Dutch pioneer of healing environments, is already a few steps ahead of the mainstream. "I prefer to talk in terms of generative space."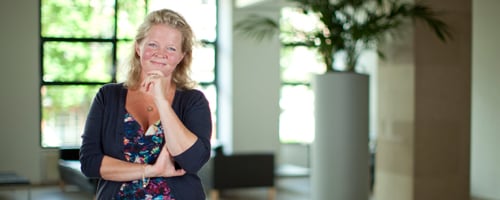 Fiona de Vos has followed her heart for as long as she can remember. Born and brought up in south Amsterdam, she was raised by her parents to be a self-confident child with a strong belief that being positive will make positive things happen.
After college, she travelled to Australia and New Zealand on her own. Back in the Netherlands, she decided to study psychology. She specialized in environmental psychology: a scientific field that, in those days, was largely unexplored.
Today, two decades later, she is the expert teaching this course at the University of Amsterdam. She is the founder of Studio dVO, a consulting and research firm specializing in the interaction between people and the physical environment, including offices and children's environments.
The firm's core business is to improve the fit between healthcare settings and their users. This is in order to enhance healing and wellbeing, and to improve a healthcare organization's clinical outcomes, economic performance, productivity and customer satisfaction. Much of her experience originates in the United States, where she worked intensively with – among others – Bruce Komiske, a renowned and visionary project executive and expert in designing and building children's hospitals.
In the Netherlands, Fiona de Vos works with hospitals, nursing homes, mental healthcare facilities and other healthcare organizations to define strategic objectives and design goals from the perspective of evidence-based design and a healing environment. But she is already thinking ahead, she says.
"I'm very interested in generative space. This is a vision developed by Wayne Ruga, my coach in the United States."
When talking about generative space, Fiona de Vos places the experience of stakeholders at the heart of the building. "This should always fulfil the functional requirement. In addition, buildings should not stand alone, but reach out to the community."
She cites the example of a large hospital lobby. "Why couldn't it, with all its restaurants and shops, be opened up to lonely and socially isolated elderly people in the community to provide them with a meal? Unfortunately, visions like these are hard to sell in Europe; they are still a bridge too far."
Things are different in the United States, Fiona de Vos indicates, giving another example: the Ann and Robert H. Lurie Children's Hospital. All 23 wards in this hospital have been sponsored by non-profit organizations, like a planetarium, a science museum, a botanic garden, a ballet school, and so on. It is called the Creative Arts Community Partnership Program, an idea from Bruce Komiske. "These 23 institutions each adopted one floor of the new hospital and committed their time and resources to designing healing environments for the hallways, lobbies, playrooms and patient care floors. As a result, the local community has become part of the children's hospital. I think that is really inspiring."
Fiona De Vos feels that hospitals in her home country use the term healing environment too lightly.
"The reason I prefer to use the term generative space is that healing environment has become a catch-all term. The concept of the healing environment has become a chant, a sort of enchanted prayer that is uttered indiscriminately. A lot of hospitals seem to think that natural light, single-patient rooms and a green plant in the hallway will do."
Nothing could be further from the truth, says Fiona de Vos. Every design choice has consequences, a fact that warrants serious consideration. "I am the common denominator between the client, for instance a hospital, and the architect. It's not just the design that is essential; the location, orientation and decoration are just as important, as is the use of materials."
Fiona de Vos uses acoustics to underline her point. "Noise on a neonatal ward creates stress in babies. It raises their heart rate and lowers their saturation. There is a brilliant TED talk from sound consultant Julian Treasure, titled 'Why architects need to use their ears', that I always show in my classes. He calls on designers to be more aware of the 'invisible architecture' of sound. Sound affects us physiologically, psychologically, cognitively and behaviourally. It pays off to really dig in and apply this knowledge."
Fiona de Vos has one piece of advice for institutions that want to create a healing environment in their buildings: "Don't act too fast. Take time to think about your vision and your strategic goals."
Studies show that 10–20 per cent of total building costs are failure costs, when the results do not meet the needs of users and the work has to be redone. Forty per cent of these failure costs are due to errors in communication, explains Fiona de Vos. "As an environmental psychologist, I am the one who oils the wheels of a properly functioning machine, if you will. I use my knowledge to do so, but also my gut and my passion. I don't want to tell people how to manage things; I want to show them that there is another way."
Text: Aliëtte Jonkers
Photo: Ingredient Media, Esa Kyyrö