Process Engineer
Lisa Andersson
The atmosphere at Ecophon is distinguished by everyone working for the company's best and so that we can be at the forefront of the industry's product development."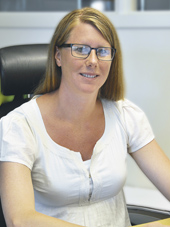 Job title: Process Engineer
Employed since: 2007
Workplace: Ecophon Hyllinge Sweden
Chemical engineer who works with process development
Lisa works as Project Leader in process and project development. Prior to that she was Chemical Engineer in Ecophon's chemistry department, where she developed new products.
"Now I mainly do preliminary studies and lead investment projects. These pre-studies and projects are conducted to improve our production and make it safer, and also to increase productivity. I'm also involved in drawing up proposals for new projects where improvements are needed in production line machinery.
Ecophon makes a difference to the work environment
The best thing about my job is seeing the development of the production lines, as well as all our great colleagues and the knowledge that our products make a difference to the work environment where they are used.
An important employer aspect for me is that Ecophon has a focus on safety, environment and health, demonstrating that they care about their employees.
Ecophon offers opportunities
Something I felt was positive whenI started at Ecophon was the opportunity for professional development within the company, and the chance to go on training courses. Another great bonus here is the flexibility."