Warehouse Worker
I'm proud of working at Ecophon because we make excellent products that improve people's wellbeing."
Pia Cedervall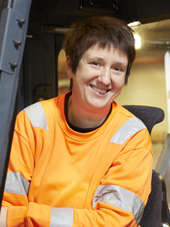 Job title: Warehouse worker
Employed since: 2008
Workplace: Ecophon in Hyllinge
Pia originally came to Ecophon as a temp and was offered permanent employment after only a month.
Variety of tasks an advantage
"My work in the warehouse is varied, ranging from production truck, order picking, doing quality controls, loading, unloading and palletting. We also serve staff in-house by distributing packages and goods that have been delivered here.
I think that the work rotation is one of the main advantages of working at Ecophon. I have a day/night rota which means three weeks' night work and then three weeks' day work. This suits me really well as it means I get more time with my children when I'm working nights.
Good atmosphere at Ecophon
As I work in the warehouse, there's often a fast pace. The fact that it's a nice group of people who get on well together and help each other out makes it much easier.
I'm proud of working at Ecophon because we make excellent products that improve people's wellbeing."