Ecophon International Office Tour 2016 - Three events you can't miss!
This fall Ecophon organizes seminars in connection with three renowned international workplace conferences. The main focus will be on brain-workers, creativity and psychology in workplace design.
Human Centric Workplaces at Nordic Workplace Conference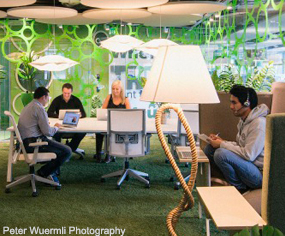 Where: Marriott Courtyard, Stockholm.
When: 30th of November
Ecophon, in coorporation with IFMA, WE, and GoToWork, welcome you to the international conference Human Centric Workplaces. It will take place the day before this year's Nordic Workplace Conference and you will learn about healing offices, how to plan for psychoacoustics, the impact of stress in the workplace and much more. Download the full program as pdf
Amongst the speakers and topics you'll find:
More information about the speakers (pdf)
Creative Sound Workplaces at ORGATEC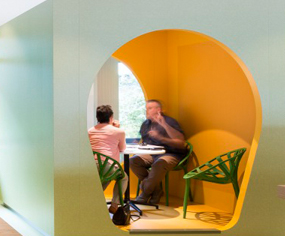 Where: The HAWORTH booth at the ORGATEC Fair, Cologne
When: 25-29th of October - Ecophon seminar start at 17:00 CET on the 25th of October.
During the Orgatec fair in Cologne we welcome you to our knowledge sharing seminar with focus on creative and sound workplaces. With presenters from companies such as Microsoft, Leesman Index, Kinzo Design, Haworth and Saint-Gobain Ecophon you will find lots of interesting topics. They will cover the working environment of today and tomorrow, how you can unleash your creativity and how the environment can support the ability to be innovative and creative as a brain-worker.
Program
17:00 - Mingle
18:00 - Welcome
18:15 - Gideon van der Burg - Managing Director Benelux, Leesman Index
18:30 - Rainer Machner - Concept Developer Manager Office, Ecophon
18:45 - Ellen Kuder - Skype for Business Lead Germany, Microsoft
19:00 - Stefan Kiss - Senior Workplace Strategist, Haworth
19:15 - Karim El-Ismawi - Founding Partner , KINZO
19:30 - Summary
19:45 - Drinks
You will find us at the Haworth's and Microsoft's booth during the whole week, where we'll also have products for show. Come visit us to discuss acoustics, brain-workers' creativity or any other sound related matter!
Workplace Trends & Ecophon Workshop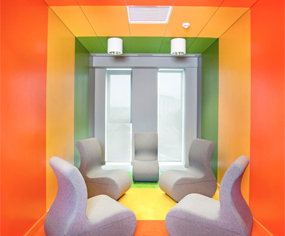 Where: The Workplace Trends Conference and the Saint-Gobain Innovation Centre, London
When: 11-12th of October
Join us for two days of insight and learning from some of the most highly regarded thought leaders in the world on workplace design and worker health and well-being.
The Ecophon workshop will be held by Dr. Nigel Oseland, Workplace Unlimited, Tania Barney, Sensory Intelligence Consulting, and Paige Hodsman, Saint-Gobain Ecophon. The theme will be: "Psychological & Physiological Factors in Office Design - Practical Workshop". We will explore the psychological impact of sound, colour, touch and smell as well as a special section on sensory filtering. We will then apply what we have learned to an actual workplace design scenario which you can take with you.
As Ecophon's guest you will receive:
A discounted ticket to the Workplace Trends Conference
An invitation to a dinner with speakers and delegates from the conference
A free ticket to the workshop the following day
...and much more.
Note that the there is a limitied number of seats available to the workshop!


We hope to see you there!
Follow us in social media under #createsoundoffices