Ecophon at Haworth's Showroom in Budapest
250 square meter of office environment inspiration!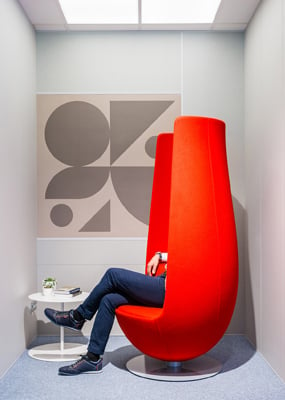 Located in Graphisoft Park, the first environmentally-friendly business and research park in Budapest, Haworth's Hungarian Showroom features effective and long-term organic workspace solutions.
A collaborative effort between Ecophon, Philips, Ege, Cappellini, Poltrona Frau and Haworth creates a warm and welcoming atmosphere, while showcasing new design trends in office environments. Our products
Ecophon Master™ Matrix, Ecophon Solo™ and Ecophon Akusto™ Wall contribute to creating great acoustics in the different working spaces.
Haworth's Budapest showroom was redesigned in 2016 by MádiLáncos Studio. Its purpose is not only to introduce the products of the partners but also to create a training center for interior designers, architects and investors.
Ecophon cooperates with Haworth and gives lecture for their and our guests together. The Showroom is used to organize meetings and trainings as well.
If you would like to know more about the Showroom please contact our Area Sales Managers in Budapest:
Tamás Györe (+36 20 315 2020 tamas.gyore@ecophon.hu) or
Ákos Lalia (+36 20 386 5761, akos.lalia@ecophon.hu).