Huddinge study no 1 - Good acoustics reduce the need for extra medication by 67%
In a study of patients suffering from chest pain at an intensive coronary heart unit, researchers investigated the effects of good and bad sound environments.
The sickest suffer the most
One of the most striking discoveries was in regards to medication intake. Nearly all the patients were prescribed peroral beta-blockers (normal heart medicine), with extra intravenous treatment given mostly when patients indicated that they were in pain. In the good sound environment, the need for extra medication was 67% lower.
How is this possible?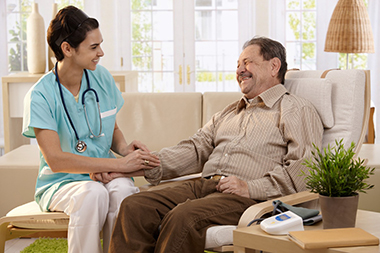 Rest and sleep are important parts of our health and everyday life, but never as important as when we are ill and need to heal. The design of patient rooms should therefore enable privacy, comfort and good quality of sleep. Patients should not be exposed to sound and noise that can cause negative feelings such as anxiety and stress.
When a sound-absorbing ceiling was installed, sound levels went down 5–6 dB, reverberation time dropped from 0.9 sec to 0.4 sec and the Speech Transmission Index improved from 0.64 to 0.86.
All in all this meant a quieter and calmer environment. The human response is that we feel more relaxed and our pulse goes down. As it did for the patients in this study, and especially the sickest patients. With the effect that they experienced less need for extra medication.
Ecophon solution
In healthcare facilities it is important that acoustic solutions meet the strictest hygiene demands in regards to cleaning and disinfection. Ecophon therefore provided Ecophon Hygiene Performance™ A for the good sound environment.
The study
At Huddinge University Hospital, Sweden, the physical environment in the intensive coronary heart unit was changed in two stages. First to provide poor acoustics for four weeks and then to provide good acoustics for four weeks. A total of 94 patients were included in the study.

Want to know more?
Download the complete research study, "Good acoustics reduce the need for medication", to read more in-depth about the results.
Just fill in your details below to get your copy online!