Fire safety requirements for suspended ceilings
The fire safety demands on suspended ceilings can vary depending on both the type of room and the building where they are to be installed.
Detailed requirements can be found in the national building regulations. Two general requirements can, however, be identified as crucial for suspended ceilings in the early stages of fire, and they should be regarded as "compulsory" in all premises:
Suspended ceilings must only make a negligible contribution to the fire development and to the production of smoke.
This is fulfilled by using a ceiling consisting of materials and surface linings complying with at least Euroclass B-s1, d0.

Suspended ceilings must not break and collapse during the early stages of the fire when evacuation and rescue operations can still be carried out.
To pass this requirement a ceiling system should be able to withstand a heat exposure of approx. 300°C. (The heat radiation from a smoke gas layer with a temperature of 300°C corresponds approximately to what a fully equipped fire fighter can withstand.)
Learn more about fire safety design in buildings.
Fire testing and classification of products
Reaction to fire tests
Fire testing methods are generally designed to simulate the different phases of the fire process. Consequently, tests on surface linings are conducted using fire sources representative of the incipient and growth phases of a fire. These test methods are referred to as "reaction to fire" tests. The purpose is to evalutate how products and materials contribute to the early stages of a fire in terms of:
Ignitability
Flame spread
Heat release
Smoke production
Occurrence of flaming droplets/particles
Normally reaction to fire tests are carried out in small or intermediate scale.
Learn more about fire testing: Fire resistance tests
The European fire testing system - Euroclass
The reaction to fire classification system of ceiling products in Europe is based on the Euroclass system, defined by EN 13501-1.
Altogether there are 39 classes divided into 7 main levels; A1, A2, B, C, D, E and F where A1 is the best and F are for products and materials not classified.
Most of the main classes also include an additional classification regarding smoke production and the occurrence of flaming droplets/particles.
The classes for smoke: s1, s2 and s3, where s1 is the best.
The classes for flaming droplets and particles: d0, d1 and d2, where d0 is the best.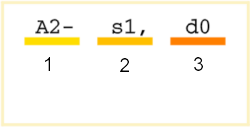 1 = Main class
2 = Smoke production
3 = Occurence of flaming droplets/particles