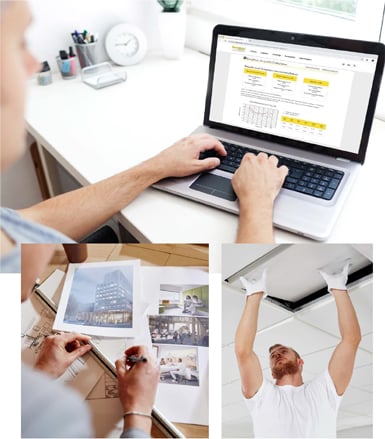 Learn more and meet the experts
Ecophon has been involved in international studies and gathered acoustic knowledge for more than 50 years. The most important information has its own place on our website and is free for everybody. Here you can also meet our acoustic experts. There are currently 21 of them, all over the world. Their objective – to spread knowledge and help anyone who asks for assistance.
Ecophon Acoustic Calculator
Ecophon has developed a free calculator that you can use to get accurate acoustic values for rooms that have not been built yet. It is also easy to use when planning refurbishments. Simply fill in the specifications of the room and the calculator will tell you what the sound environment will be like.
Try the Ecophon Acoustic Calculator
Product guide
In the product guide you can learn the acoustic considerations of all the common spaces in different facilities, such as healthcare, offices, education, industry, cinemas, kitchens and swimming pools. It also offers product recommendations for each environment.
Installation films
The collection of installation and accessibility films are live-action films, where you follow an installer who takes you every step through the process. The films are available on the product pages on our website and on the Ecophon YouTube channel.
Cleaning and maintenance films
Want to see how to clean our different surfaces and what they withstand. Then the cleaning and maintenance films are there for you. They are available on the product pages on our website and on the Ecophon YouTube channel.
Watch film

More e-tools
The Ecophon Quantification Tool will help you make an estimation of all the components you will need when building an Ecophon acoustic system.
The Ecophon Maintenance guide is a web-based tool for generating maintenance instructions for Ecophon ceilingand wall systems, tailored for your specific project.
BIM objects are widely used in construction projects today. By downloading Ecophon BIM objects, you automatically have access to all up-to-date, technically relevant data, for free. The files are compatible with both ArchiCAD and Revit.
Social media
We are present on LinkedIn, Twitter, YouTube and Facebook. Following us means you will learn about new acoustic findings, acoustic research and product development, as well as seeing inspirational new reference cases.
If you want to know more about indoor acoustics, Ecophon sound-absorbing ceilings and wall absorbers, or what solution that is best suited for a specific room, please contact us or use our digital tools.