Product Range Manager
Patrik de la Motte
As I've got children, I value the flexibility of our working hours and the understanding from my boss. And having the chance for training, in-house and externally, is a great bonus too."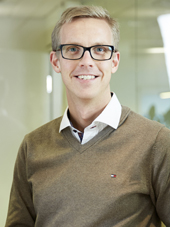 Job title: Product Range Manager
Employed since: 2010
Workplace: Ecophon Hyllinge Sweden
Patrik is into his third position at the company
"I came into contact with Ecophon through a summer job as a Logistics Coordinator. Even then I felt that it was a very good, successful company with great staff. When I was later offered a job as Supply Chain Planner, I didn't hesitate for a moment.
I now work as Product Range Manager and have commercial responsibility for one of Ecophon's product ranges, looking after pricing for all markets, with responsibility for the products' profitability and for the phasing in and out of products. As Product Range Manager I have a lot of contact with our business units in Europe, which I really enjoy.
The best thing about my job is the variety of work; I learn new things every day and get to work together with colleagues who are really committed to what they're doing.
Sees a future at Ecophon
My future feels exciting. I have a position where I still have a great deal to learn and in which I want to develop. When I feel ready to advance, I hope it will be at Ecophon.
I think people should definitely apply to Ecophon. I can guarantee that they'll enjoy their work and be happy here. And there are great career opportunities at Ecophon and Saint-Gobain for anyone who's keen."