Accountant
Marcus Troedsson
I've been given opportunities to develop and test new things. It feels like I'm creating a good foundation for my future career within the company."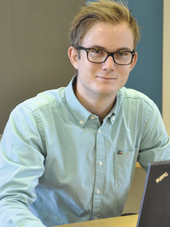 Job title: Accountant
Employed since: 2012
Workplace: Ecophon Hyllinge Sweden
Marcus's career started with a summer job
He came to Ecophon as a student on a summer job in 2008, and after completing his studies he is now employed in our Finance Department.
"In the Finance Department I have shared responsibility for accounts receivable, where my duties include booking customer payments from six of our business units. This means I have a lot of contact with our local units in Europe, which is both interesting and stimulating.
Ecophon was the natural choice
Since I had a positive impression of Ecophon while working here on summer placements, it was perfectly natural to continue. I've had the opportunity to develop and test new things; I started with a summer job in production and then went on to a summer job at accounts payable, where I was later employed, and I recently started a new position handling accounts receivable.
We take care of each other here
The atmosphere at Ecophon is very familiar, in the sense that we function a bit like a family; it's a place where you feel valued and looked after. 'The family' is a concept that is unbeatable when it's functioning, which it does here at Ecophon.
Believes in a future at Ecophon
My goal is to continue my development together with Ecophon. What's most exciting is that the destination can't be seen yet, but I'm sure that the future is bright both for me and for Ecophon."