Project Coordinator
Connie Dinga
What has made my experience so enjoyable is the ability to remain challenged and continually learn new things"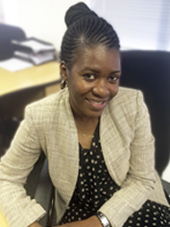 Job title: Project Coordinator
Employed since: 2013
Workplace: Ecophon South Africa
Connie choose to work at Ecophon because of company growth and success
Connie work as Project Coordinator and her role is to support all Area Sales Managers and customer groups involved with Ecophon projects.
"My long term goals involve growing with the company where I can continue to learn, take more responsibilities and contribute as much of value as I can.
In my job I am able to utilize my skills.
Ecophon empowers us to do our jobs and gives us necessary tools, like up-to-date digital technology and ongoing training, to not only to do our work well, but also to grow as professionals.
Professional development and team work
Our Company is clearly client-focused, but what I appreciate so much about Ecophon is everyone treats one another as clients internally as well. We all realize our success as a company relies on our ability to work as a team.
To anyone wondering whether they'd like to work with us
I would just like to say that each day you will have the opportunity to work with great individuals who are interested in maintaining a dynamic work ethic to keep our organization strong and growing. There are individual's at all different levels very willing to share their knowledge and mentor others to new heights in their careers. There is a definite feeling of being on a team and working together to accomplish our goals."