Communicating clearly in Lübeck
Patients' lives depend on the skill and focus of the emergency medical team. Clear, precise communication is invaluable, so the University Medical Center Schleswig-Holstein in Lübeck, Germany, decided to create the optimum conditions for it.
"The result was an amazingly quiet working environment that supports and enhances the work of our doctors and nurses," says Dr Sebastian Wolfrum.
The medical director of the interdisciplinary emergency department at the University Medical Center Schleswig-Holstein in Lübeck is delighted with the new department. The interim solution – a modular building extension – will eventually be replaced by a new main building housing the emergency department.
In the meantime,a complete overflow ward has been constructed on the upper floor of the temporary structure, which was erected in just six months and is fully reversible.
Although this is a short-term solution, planning discussions between architects, medical staff and patient representatives deemed the acoustic environment to be a relevant consideration in designing the building.
"The need for quiet and discretion soon emerged as one of the most important design factors," says Sebastian Wolfrum. As a result, the entire emergency department has been acoustically optimized, including the wards where patients await further treatment or diagnostic tests.
format_quote
We can't afford any disruptions or misunderstandings here. If there is one weak link in the chain, it can jeopardize the whole situation.
Working in the emergency department requires the entire team to be capable of multitasking. When a patient arrives, the focus is on devising an appropriate diagnosis and treatment plan. Medication, monitoring, and dealing with fear and grief are all part of the equation. Medical staff have to be alert to any changes in a patient's condition while counselling and managing family members and relatives.
"In this stressful, demanding situation, we have to be in a position to communicate in a precise and easily understandable manner, so that diagnosis and treatment proceed as efficiently and as fast as possible," says Sebastian Wolfrum. "This is critical – we can't afford any disruptions or misunderstandings here. If there is one weak link in the chain, it can easily jeopardize the whole situation."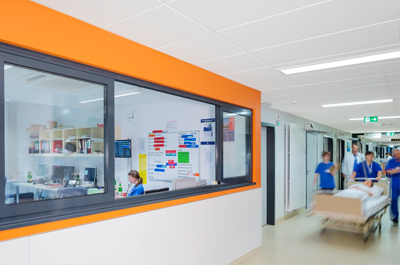 A visit to the emergency department is a frightening experience for most patients, frequently involving a great deal of pain and shock.
"The more we can eliminate unnecessary sources of stress, the better it is for our patients, their family members and visitors. Noise can be a cause for concern, especially when you don't know what it is. Noise disturbs sleep, interfering with an essential phase of recovery. Everywhere we can reduce disruption, we promote healing and improve work quality," says Sebastian Wolfrum.
A series of studies have shown that an optimum working environment improves both the work quality and the efficiency of individual employees. Noise is constantly cited as the biggest disturbing factor in tasks that require concentration and communication.
A British study showed that over 80 per cent of communication in a hospital emergency department takes place face-to-face or by phone. If workflows in the emergency department are interrupted or affected by unnecessary noise, the risk of errors increases.
"The new department keeps unnecessary interruptions and stress under control, facilitating calm, clear communication and enhancing patient safety and wellbeing. This makes our job much easier, as well as benefiting our patients."
According to Sebastian Wolfrum, the psychosocial benefits to the emergency department team should not be underestimated. Team spirit and loyalty are important factors here.
"The less preoccupied our resources are with team-related differences, the more capacity we have available for treating patients. Development is integral to medicine and should also be integral to the design of the workplaces where medicine is practised. Continuous development in creating optimum working and recuperation environments should be the objective for all of us."
Photos: Hans Georg Esch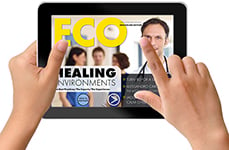 Liked this article?
This article is from the magazine ECO for Sustainable Design - healthcare edition. If you enjoyed it and want more similar articles, or just a more interactive experience, you can:
Read the full magazine online
Download it to your iPad
Download it to your Android tablet