Sundbyberg study - Good acoustics reduce stress in open-plan offices
The Stress Research Institute in Stockholm, Sweden, conducted a study with Ecophon in a real-life office environment to examine how sound affects people in open-plan offices. During the study the sound environment went from poor to good and back to poor again.
Improving performance and wellbeing
The study clearly showed that a good sound environment, with reduced sound propagation, resulted in:
A reduction in cognitive stress by 11%

A reduction in perceived disturbance in general by 16%


How is this possible?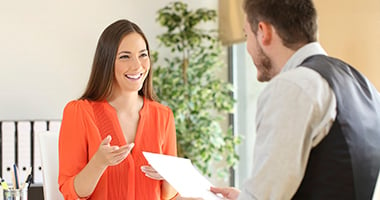 Sundbyberg City Hall has similar, large open-plan offices on two floors. Here, people perform a lot of different tasks every day, both at their desks and elsewhere around the office. When all this activity happens in a large space with only hard, reflective surfaces, sound will bounce off these surfaces and spread everywhere, so people have to raise their voices to be heard. The constant background noise is also tiring and makes concentration hard.


The answer to this problem is to stop sounds as close to the source as possible, before they become a disturbance. This was achieved by installing a sound-absorbing ceiling and wall absorbers. The overall sound level dropped and sound propagation was reduced significantly. As a result, people were less stressed, less disturbed and performed their tasks more easily.

Ecophon solution
Ecophon provided the sound-absorbing ceiling Ecophon Gedina™ A and wall absorbers Ecophon Akusto™ Wall C for the good sound environment.
The study
The study was carried out on two similar floors of Sundbyberg City Hall near Stockholm, Sweden. Different sound environments were created on the two floors, one with poor and one with good acoustics. The environments were switched after three weeks and then again after another three weeks. 151 employees were involved in the study. They were unaware of the changes in the sound environment.
Want to know more?
Read more about the research study Sundbyberg to learn about the solution that was done using a combination of acoustic ceilings and wall absorbers.

Or if you want help, guidance or inspiration to support the creation of a good sound environment, please contact our local acoustic experts. Just fill in your contact information and questions below and we will get back to you!