The accidental healthcare architect
A serious motorcycle accident gave him a mission: to improve the healthcare environment for patients. Today, UK-based architect Alessandro Caruso is committed to creating healing environments for the healthcare industry.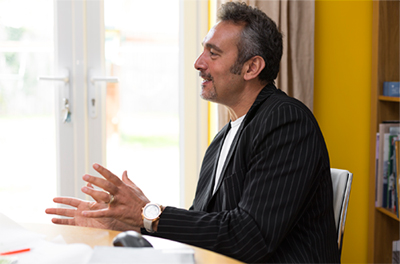 Alessandro Caruso founded his practice, ACA+I, in January 2014, and currently 80 per cent of its workload comes under the health and social care umbrella. Working from his home near Hull in the north of England, he runs his practice as a virtual office, with two colleagues based in the UK and another team in Italy.
When asked about how this affects his home life, he makes it clear they are intertwined. "My work is my best pastime – a way of living that focuses on creating people-centred, sustainable and holistic buildings that inspire."
Alessandro Caruso's interest in healthcare design stems from a very personal experience. Many years ago, he had a serious motorcycle accident that left him confined to bed for three months. During that time, he became acutely aware of the challenges of open wards and the clinical atmosphere of the operating theatre. This left him with a deep sense of wanting to do more. "Making a difference in healthcare is so rewarding – you get a real measure of what actually improves people's lives,"he says of his work today.
The son of an architect, Alessandro Caruso has breathed in the dust of building sites all his life, and his love of the discipline continues to this day. His decision to set up ACA+I was motivated by a personal interest. "I wanted to give myself sufficient head space to dedicate to creative research and evidence-based design, which is sometimes hard to do in a commercial setup."
Caruso's investigative approach is curiosity-driven, offering a unique perspective on creative healthcare design. Architects, he says, "… are accused of creating designs for our own egos, which is often true. But shouldn't we sometimes just focus on creating something on a human scale?"
This viewpoint is what separates Alessandro Caruso from his contemporaries. He views the building from the inside out, believing that the form should follow the function, while stimulating the senses. For him, it's only possible to create a healing environment if there's a focus on what immediately surrounds the people: the interiors.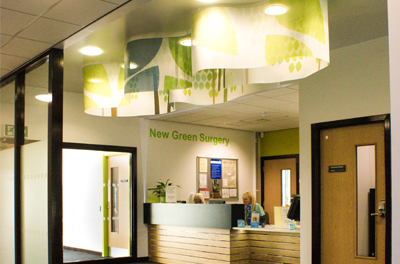 So how does Caruso go about creating a healing environment? The healthcare sector is never a one-size-fits-all situation, so the first thing to establish is the basic needs.
He has designed everything from care homes and day centres to secure treatment units and operating theatres. But everything comes back to the people. Throughout every design process, he spends time with the medical staff and the patient group. For him, this is the only way to get a truly empathic vision of what the users experience in these centres. "We need to really think about all of the senses that we use and all the sensations we perceive– the light, the sounds, the aromas. They all have particular associations, and they need to be considered in buildings focused on healing," he says.
Noise is the main source of stress in hospitals, and as such has an important role to play in Caruso's designs. Silence is not always the answer – here too, the focus is on the individual needs of the stakeholders. In facilities for people with complex needs, sound can be used to help residents independently navigate the facility. Caruso uses "positive noise", such as music or running water in communal rooms, but where noise management is critical (e.g. bedrooms), he uses sound-absorbing ceiling and wall panels. In a dining hall, a multi-sensory approach is used, combining social sounds, natural light and the aroma of food to entice residents in. For him, a healing environment is one that is enjoyed by staff and residents alike.
When working with the elderly, the route to healing is somewhat different. For Caruso, the key is to create a place that can be enjoyed – where you learn to live with a condition, rather than just approach the end of life. Speaking about a current project, he explained that the focus in the UK is on the development of retirement villages, more like a holiday community than a care home. "This is a deliberate step away from the old 'campus' dedicated to healthcare. It's about producing a residential setting, rather than making someone feel they are being treated."
And Caruso always aims to create spaces that are multifunctional or at least easily adaptable, so that they can remain useful for longer.
format_quote
It's about producing a residential setting, rather than making someone feel they are being treated.
Alessandro Caruso sees architecture as "lifelong learning" and finds inspiration in his global network of contacts. While he considers the UK a leading member of the healing environment community, he warns that progress depends on collaboration. He especially cites Scandinavian nations, which he says "have managed to achieve a truly human scale to healthcare".
Related to this is their extensive use of natural materials such as plants and wood – materials that the UK removed from wards for hygiene considerations, a view that now seems outdated.
In his opinion, the healthcare environment is changing across the globe, but when it comes to a multi-disciplinary holistic approach, the UK can offer a lot of valuable lessons. He believes the path ahead of him is an exciting one.
"Everything I have done in my career seems to be part of a full circle. Having been in the healthcare system myself, I like that working in this sector allows me to give back."
Text: Laurie Winkless
Photo: Bean Veasey