Bremen study - Good acoustics reduce teachers heartrates
A comprehensive German study investigated how classroom noise affected teachers and pupils. When it was realised that it made 80% of teachers feel stressed, the researchers decided to find out if these stress levels could be reduced by improving the sound environment.
The impressive results show that:
Teachers' heartrates went down by 10 beats per minute

The sound levels were reduced dramatically: 6 dB for traditional teaching and 13 dB for group work


How is this possible?
If a classroom has poor acoustics, sound will be amplified as it bounces off the reflective ceiling and walls. This will create a background noise that distorts speech. Sound levels will escalate because students and teachers have to raise their voices to be heard. This environment will often feel quite stressful.
A sound-absorbing ceiling reduces the overall sound level in the classroom and reduces the background noise. This is what happened in the classrooms with good acoustics.
Here, the sound level was 6 dB lower for traditional teaching and 13 dB lower for group work. Since the measured effect of the ceiling was a reduction of 3 dB, this meant that teachers and pupils changed their behaviour when the sound environment was improved. Because they no longer needed to raise their voices to be heard, they could actually speak more quietly and still be heard perfectly. The classrooms became a more relaxed environment where everybody felt calmer, and as a result their heartrates went down.

format_quote
You buy a 3 dB sound reduction and you get 10 dB for free!
Ecophon solution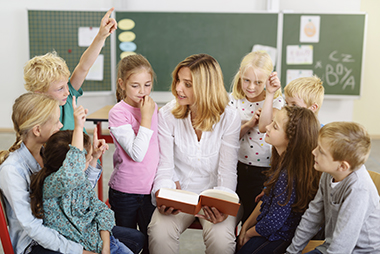 Ecophon was involved in the study from start to finish. The sound-absorbing ceiling used in the rooms with good acoustics was Ecophon Master™.

The study
The German study was conducted in 5 schools, 28 classes, 70 classrooms and 570 lessons. The pupils were between 5 and 11 years old and the study compared classrooms with and without acoustic ceilings.

Want to know more?
Read more in-depth about the Bremen report to learn even more about the impact of good sound environment in schools.

Or if you want help, guidance or inspiration to support the creation of a good sound environment, please contact our local acoustic experts. Just fill in your contact information and questions below and we will get back to you!