Brede kool
Projekt: Brede kool / Brede school het Liesveld, Ameide
Segment: Haridus
Maa/Linn: Holland/Ameide
Arhitekt: RoosRos Architecten
Paigaldaja: PBS projecten
Fotograaf: René de Wit
Lisainfo Brede kooli kohta (inglise keeles):
Brede School Het Liesveld gets thumbs-up from users

In October 2019, Brede School Het Liesveld in Ameide opened its doors. This new childcare and education campus, housing five institutions, provides a focal point for the village where everyone is welcome. The finished complex is a source of pride for all its users.
Under one roof
Het Liesveld caters for all children between the ages of 0 and 12. In addition to two primary schools, the childcare and education campus is home to after-school care, a day nursery and a library. The ground floor of the two-storey building houses the entrance hall, the library and the Year 1–2 classrooms. On the upper floor, the Year 3–8 classrooms open out onto the wide central corridor, which effectively serves as a large open-plan learning space.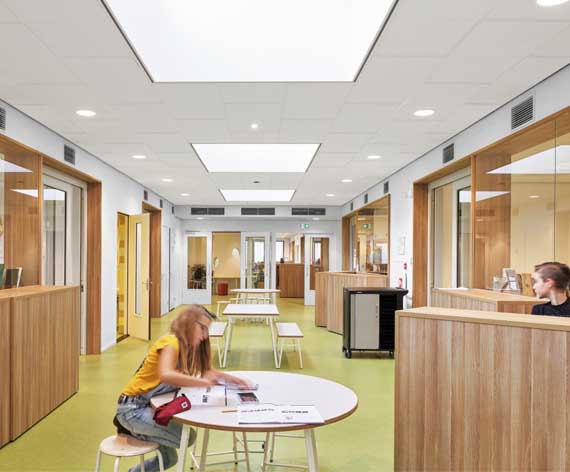 Transparency a priority
The architect has opted for a compact design in which daylight penetrates deep into the building through skylights and a central light well. The whole complex radiates transparency. The library is deliberately and wisely located in the middle of the building to ensure interaction between the various groups of users.
Good acoustics a must
A great deal of thought has gone into creating a good acoustic environment. Because the building serves so many different groups, it is important that their activities do not interfere with one another. The suspended ceiling chosen for the classrooms consists of Ecophon Gedina A panels with Ecophon Extra Bass low-frequency absorber on top, which is particularly effective in absorbing noise in the 125 Hz frequency range. This solution has been developed by Ecophon specifically for classrooms and meets the Class B standards of the Dutch Frisse Scholen ('Fresh Schools') programme. What this means in practice is that the acoustics are good (Class C is the minimum standard required under the building code; Class A is the optimum). In the wide corridors that also serve as learning spaces, Ecophon Focus E ceiling panels have been installed in a staggered pattern, which not only ensures a good acoustic environment but also creates a more playful ambience.